This week Mobia won the prestigious "German Senior Citizens' Awards" for establishing  an accessible, age-friendly public transport system in Saarbrücken.
Mobia prevailed over more than 200 competitors and was chosen by an expert panel for its special services for older and mobility-impaired people.
The award draws attention to ideas which support older citizens in leading an active life or enable them to engage in the development of their hometown.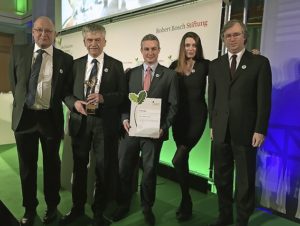 Photo: Prof. Dr. Daniel Bieber (iso), Manfred Backes (Saarbahn GmbH), Maurice Rekrut (DFKI), Kathleen Schwarz (iso) and Florin Spanachi (B2M Software GmbH) receiving the award.
For further information please check http://www.bosch-stiftung.de/content/language2/html/8325.asp